About Us
Featbeat Dance was started by Tracy Dawson in April 2009 for the purpose of offering Adult Tap Dance classes in Hereford and the surrounding area, she has enjoyed musical theatre and dance since the early 1980's taking part in many Pantomimes and shows, along with appearing in the movie National Lampoon's European Vacation as a dancer in the dream scene filmed in London. After working for several years in London, New York and Spain, in the late 1990's her passion for tap drove her to work through the ISTD adult tap grades followed by gaining Intermediate, Advanced 1 & 2 ending with her teaching qualification with the ISTD and the IDTA. During this time Tracy appeared in the following shows;
1998 Cabaret; Dancer/Singer The Courtyard, Hereford
1999 West End Showcase; Dancer in 42nd Street and Beauty School Drop Out, The Courtyard, Hereford
2000 Dracula; Dracula's Bride/Ensemble The Courtyard, Hereford
2000 Hereford Dance & Drama Festival 1st place in adult solo dance
2001 Chess; Dancer/Singer Fat Chance Productions at The Larruperz Centre, Ross
2001 Cinderella & Light Years; Dancer in Fred & Ginger, Timewarp, Cinderella, The Courtyard, Hereford
2002 Fiddler on the Roof; Dancer/Ensemble The Courtyard, Hereford
2006 Singing in the Rain; Ensemble/Dancer/Singer The Courtyard, Hereford
2006 Mamma Mia; Dancer/Singer Prince of Wales Theatre, London
2013 BBC One Show 'Goodbye Television Centre'; Dancer, London Television Centre
Tracy has since performed and choreographed several shows and private events as well as travelling up and down the country expanding her knowledge of tap. From 2008 to 2009 Tracy taught Adult Tap, Grade 2 and 3 Tap at Hereford Ballet School up until she started Featbeat. Tracy's aim is to give everyone the opportunity to enjoy the diverse range of tap dance styles, rhythms and music from traditional tap right up to todays styles seen in the performances of Stomp and Tap Dogs. She also regularly arranges social outings and events for all her dancers. Along with Featbeat Tracy is a qualified Accountant whose other business is 'TD Accounting & Payroll Services' for more information check out www.tdaccounting.co.uk.
Other associates of Featbeat are;
Kim Dawson who regularly helps out with creative direction, choreography and sound technology. Kim studied ISTD Ballet, Modern, Tap and Jazz from age 3 to 15 in Hereford and completed A Level Drama and AS Level Dance at Hereford Sixth Form College, she then went on to complete a National Diploma in Sound Engineering.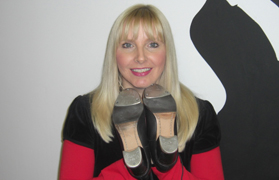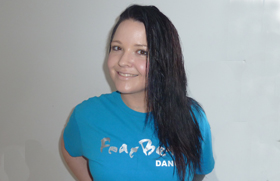 Pictured left to right: Tracy and Kim